For some businesses, PayPal doesn't offer what they need from a payment processor. The payments app has high fees for charge backs and doesn't provide the level of seller protection that many businesses seek.
Worse, it doesn't provide the most friction less checkout experience, which can be distracting for consumers trying to make a purchase on your site.
Fortunately, there are many PayPal alternatives on the market that businesses can use to send and receive payments efficiently and securely.
But, what is the ideal for your business ?
In this article, we'll introduce the top PayPal alternatives you should check out and start using to accept payments from shoppers eager to make purchases on your site.
Which payment processor is right for my business?
In today's society, consumers are looking for friction less payment gateways with immediate results.
Payment processors have introduced a modern new approach to traditional online transactions to make shopping easier and more accessible.
Basic features of payment processors
Before going into the details of each individual payment processor, it is important to understand what are the basic features offered by most of them.
Most payment processors offer:
Online payment portals or links

Direct Deposit Bank Transfer

Mobile payment compatibility

currency conversion

Business Account Dashboards
As you evaluate payment gateway options, keep in mind what's most important to your website . There are so many options on the market, and many of them offer overlapping features.
By understanding what makes each one different, you'll be able to evaluate and choose the right payment provider for your business.
What is PayPal's biggest competitor?
Physical money is PayPal's biggest competitor, according to the company. PayPal is trying to get consumers to do more cashless transactions online.
Other companies with a large market share like Square, Shopify Payments, and Apple Pay could also be considered direct competitors.
Unlike cash, however, PayPal and other payment gateways facilitate transactions on popular e-commerce sites and online marketplaces like eBay.
Can you sell on eBay without using Paypal?
Many consumers think that PayPal is necessary to open an eBay store, but it is not. Credit and debit cards are also accepted on eBay.
Paypal was the most popular payment method on eBay in the late 1990s, but since then the site has allowed consumers to use more options.
According to eBay,
"When you list an item on eBay, you choose how buyers pay you. In most categories, you have to accept PayPal or credit and debit cards.
Now, back to the main topic: what could be a good PayPal alternative to use?
PayPal is popular… but that doesn't necessarily mean it's the best choice for your business. 💳 Find alternatives with higher security and lower rates in this summary ⬇️
22 Best PayPal Alternatives in 2022
We've done the heavy lifting and research for you. We have compiled a list of the best PayPal alternatives with the key features and most importantly their prices. Browse through all of them or click on the following links to go to the specific option you want to review: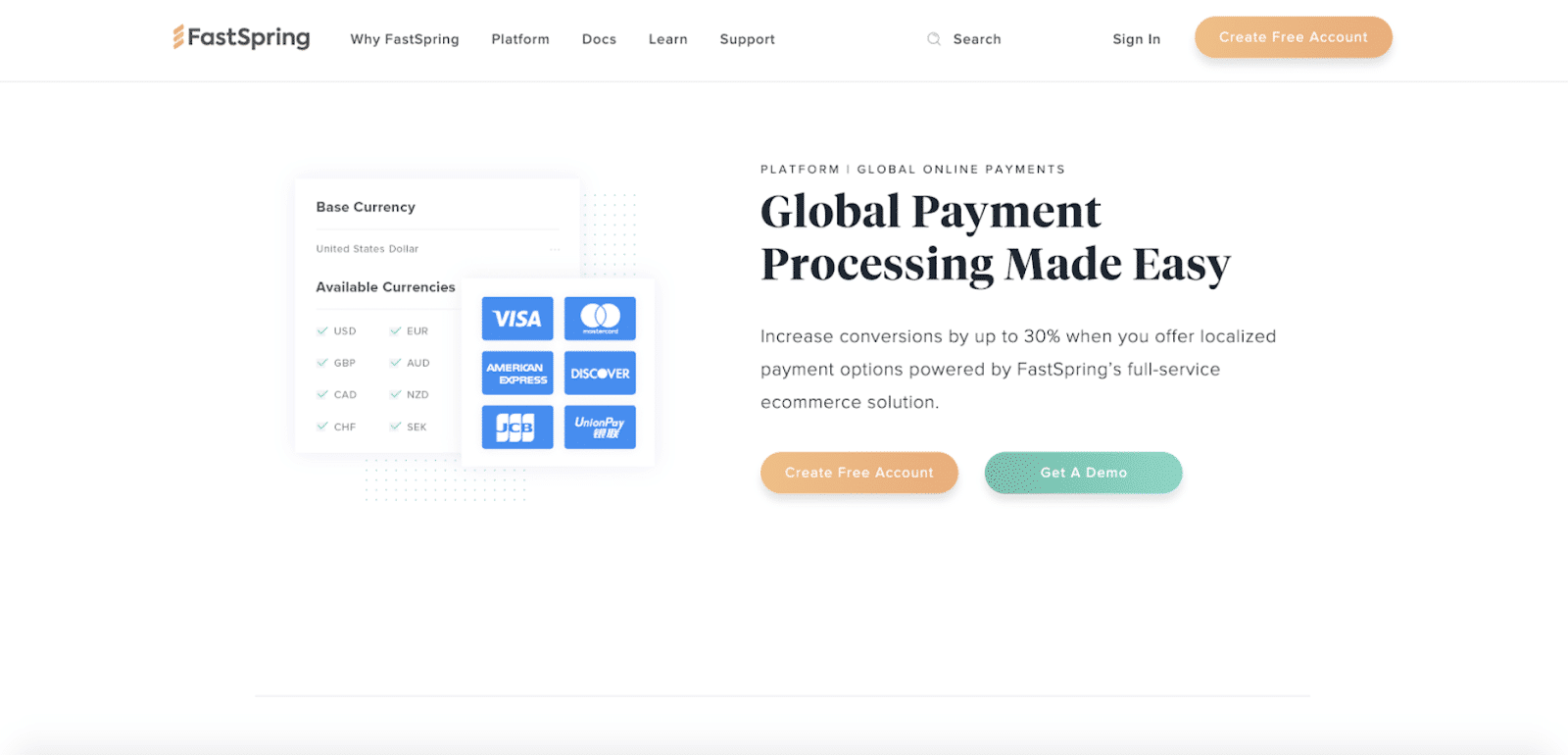 FastSpring is an eCommerce payment solution that boasts its ability to increase conversions by focusing on localized payment processing.
The language of the transaction will automatically update based on the buyer's location.
Additionally, FastSpring is a PCI Service Provider Tier , the highest security classification available.
One of the most important features of FastSpring is its ability to process payments more efficiently. Unlike some payment processors, FastSpring will automatically redirect transactions to other participating banks and will retry the transaction if the first transaction fails.
FastSpring offers either a flat fee model with a fixed 8.9% fee per transaction or a variable model that adds a fee based on 5.9% of the total transaction + $0.95.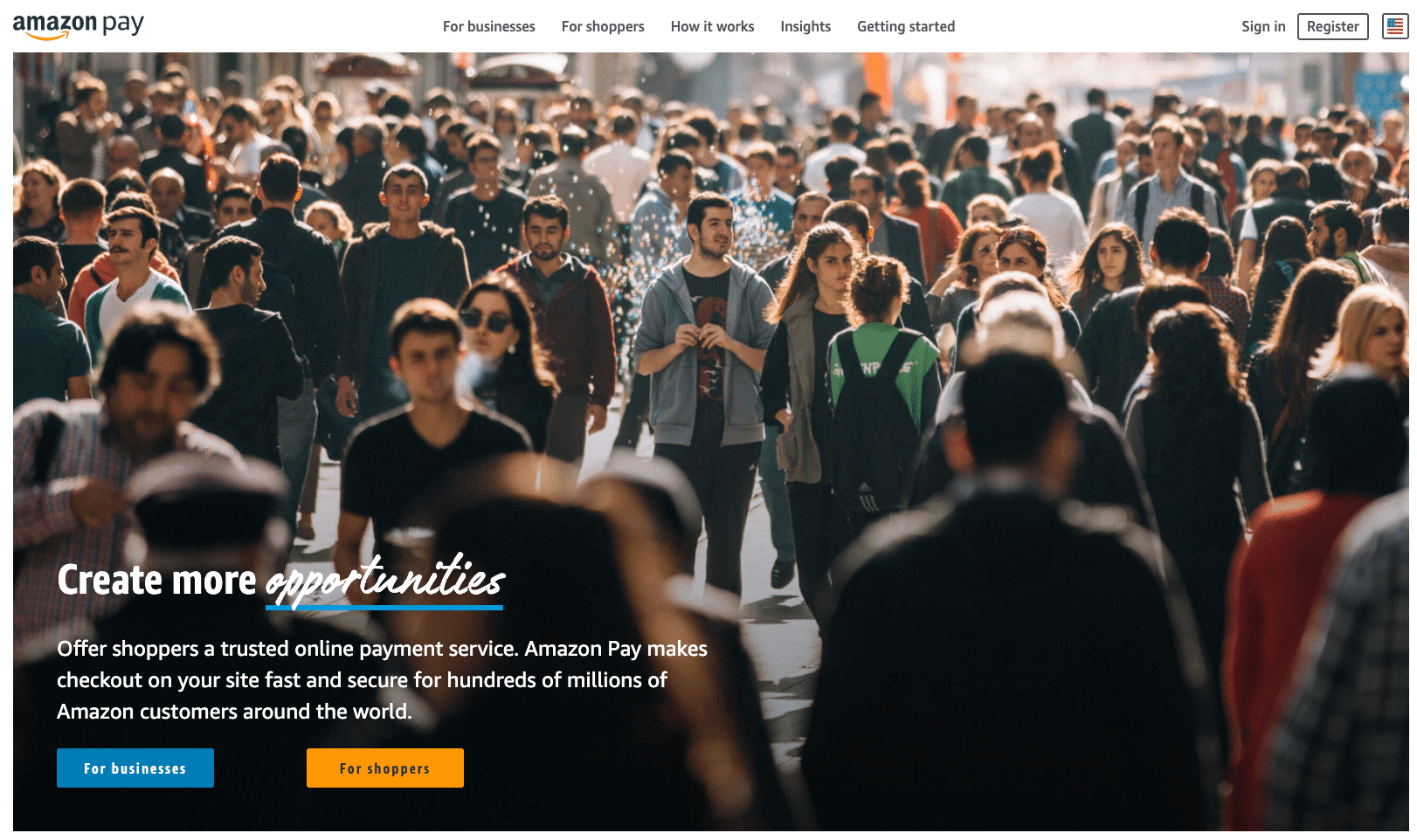 Amazon Pay streamlines payments by allowing Amazon account holders to seamlessly check out on your website. Payments that are processed through Amazon Pay receive the "A to Z Guarantee", ensuring the delivery and optimal condition of your purchases.
Because Amazon Pay requires consumers to have an Amazon account , customers are verified before purchasing. This process, along with their fraud detection services , help reduce the number of problems you will have at the time of purchase.
Amazon Pay is known for its one-click ordering interface, which makes its ease of use a competitive advantage.
Amazon Pay charges 2.9% + $ 0.30 for each US domestic transaction.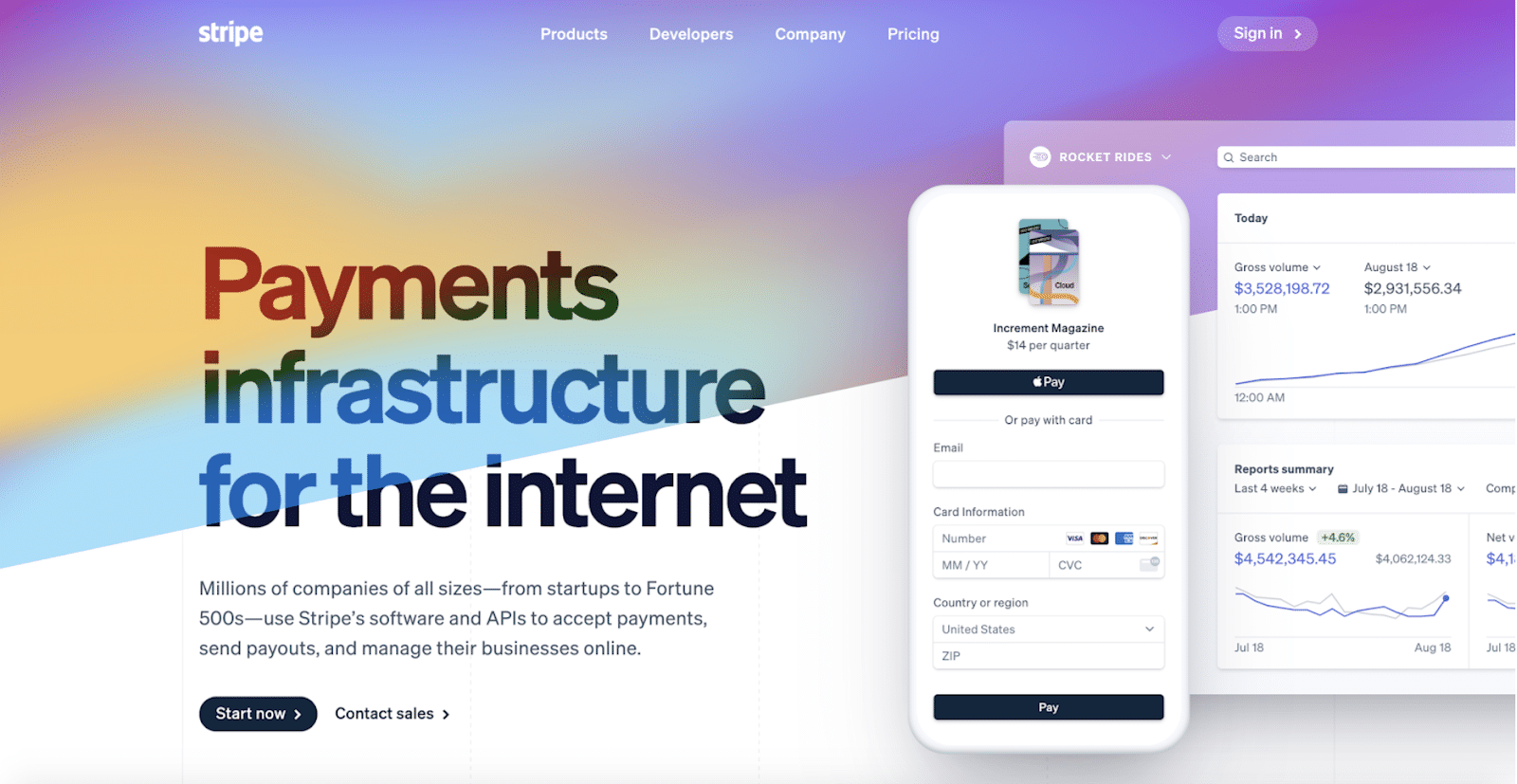 Stripe considers itself the "payment infrastructure for the Internet". Businesses of all sizes use Stripe to handle transactions and make payments with ease.
Stripe offers a lot of flexibility for business owners . You can integrate Stripe into your store and accept global transactions by adding a single integration to your site. Some competitors require multiple integrations for each country they want to do business in. All processing takes place locally and card numbers and keys are encrypted and stored separately for security.
Stripe is a complete platform for every aspect of the payment process. Business owners can personalize customer checkout experiences, assess optimization opportunities, review fraud alerts , reconcile vendors, and prepare reports.
Stripe offers numerous integrations, including QuickBooks and NetSuite, to connect your payment method directly to your ledger.
Stripe charges 2.9% + $0.30 per transaction. Be sure to read our detailed comparison of Stripe vs. PayPal .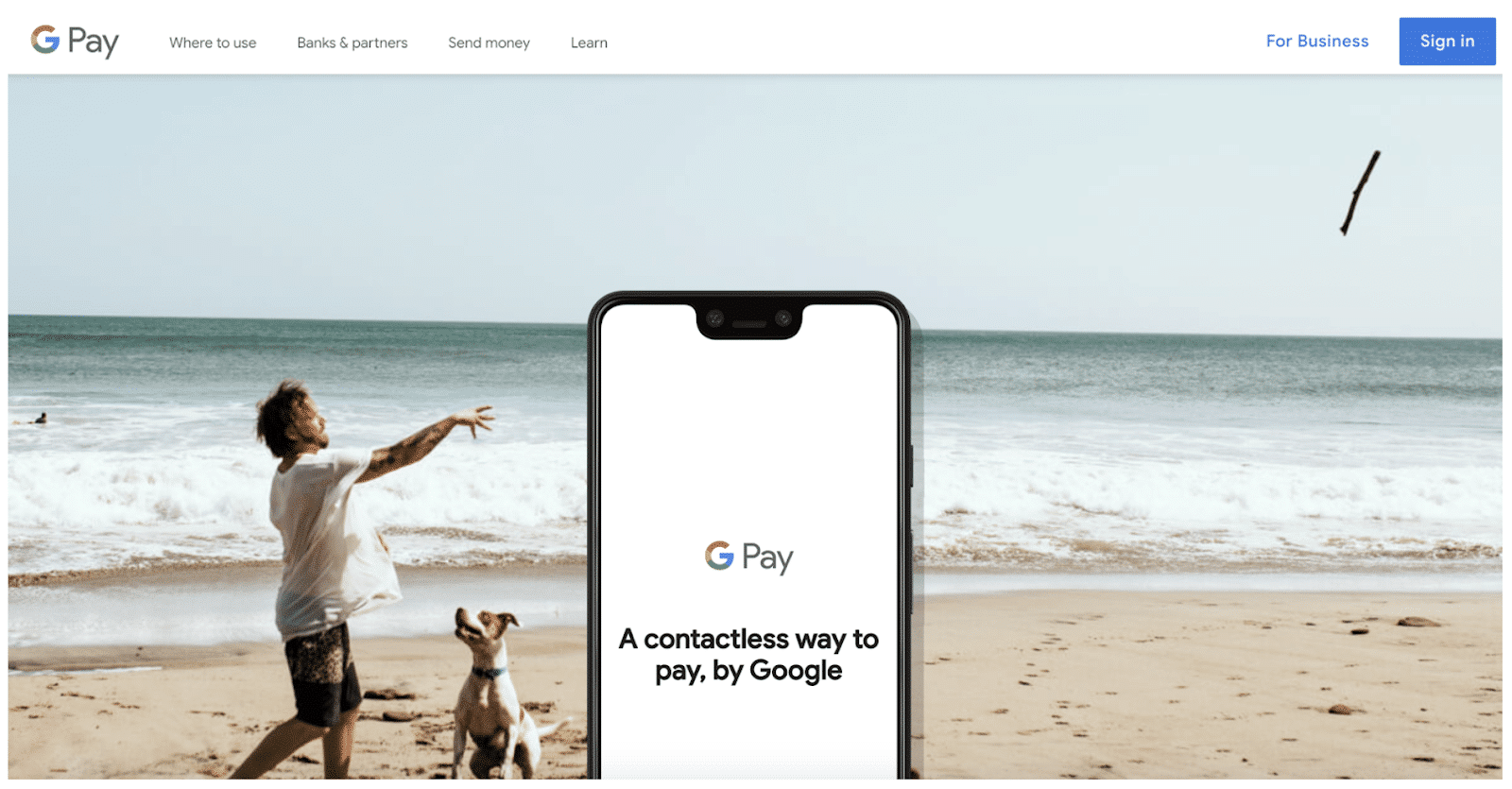 Google Pay is a contactless payment method that is used by millions of stores around the world. The processor uses an encrypted number for customers instead of their credit card number. This increases security and allows for a lot of new ways to transact.
Consumers can send and receive money via email address or phone number. Businesses can use Google Pay as another way for customers to sign up for their online store.
Additionally, businesses can take advantage of the Google Pay integration with the Passes app. This allows them to promote loyalty programs, offers, gift cards directly in the Passes app. They can also target consumers with location-based notifications.
Google Pay doesn't charge merchants any fees, but it does charge standard credit card fees.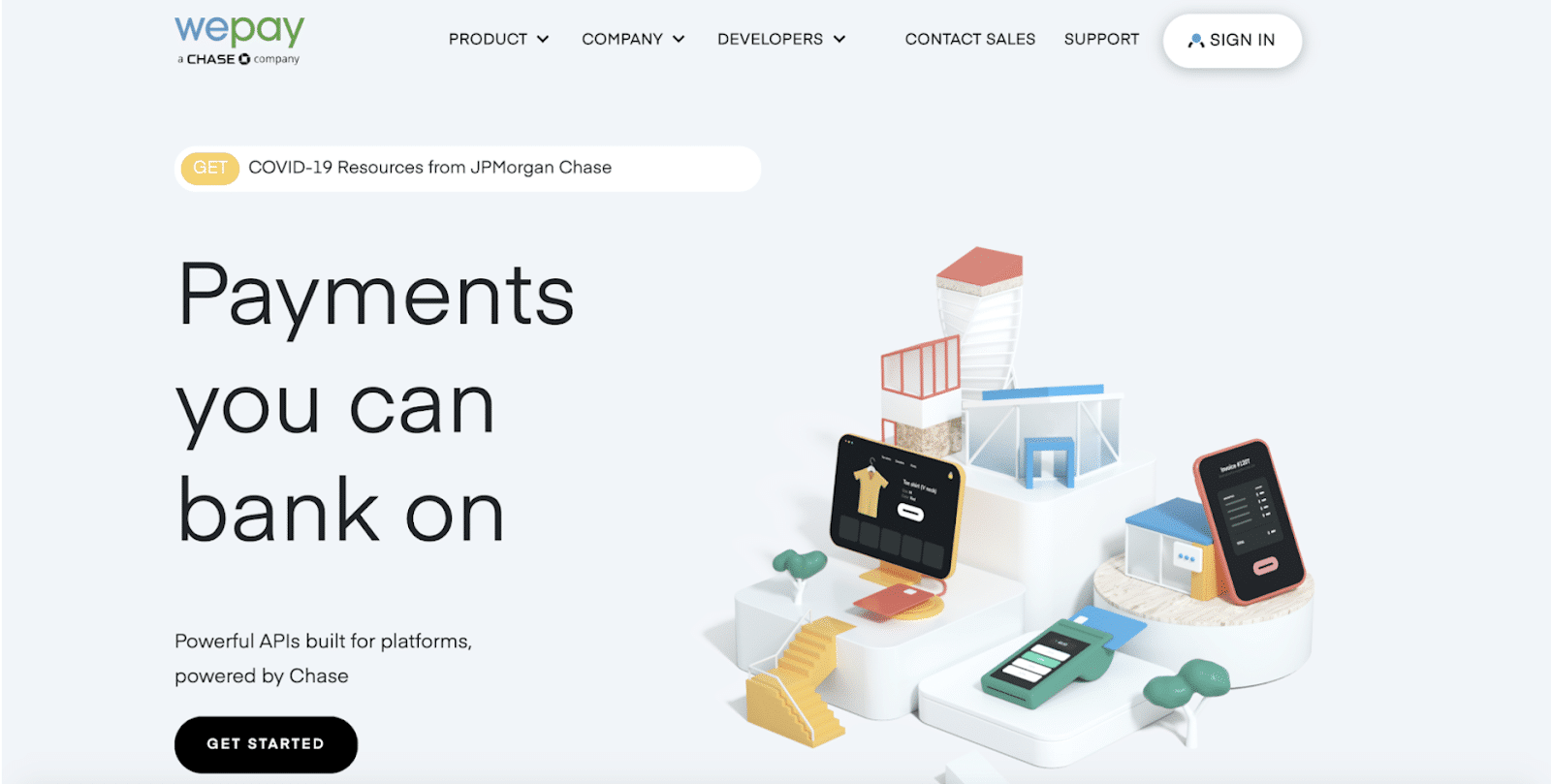 WePay processes payments for businesses and integrates with many of the software programs they are already using. Chase Bank acquired WePay in 2017.
WePay offers businesses same-day deposits and the ability to integrate payment information with other reports that are already in place.
WePay can be easily added to your site with just a few lines of code . Additionally, businesses can use their physical terminals and mobile card readers for in-person payments.
WePay offers business guarantees, including loss protection and contractor management features for your employees' payroll.
WePay charges 2.9% + $0.30 per transaction.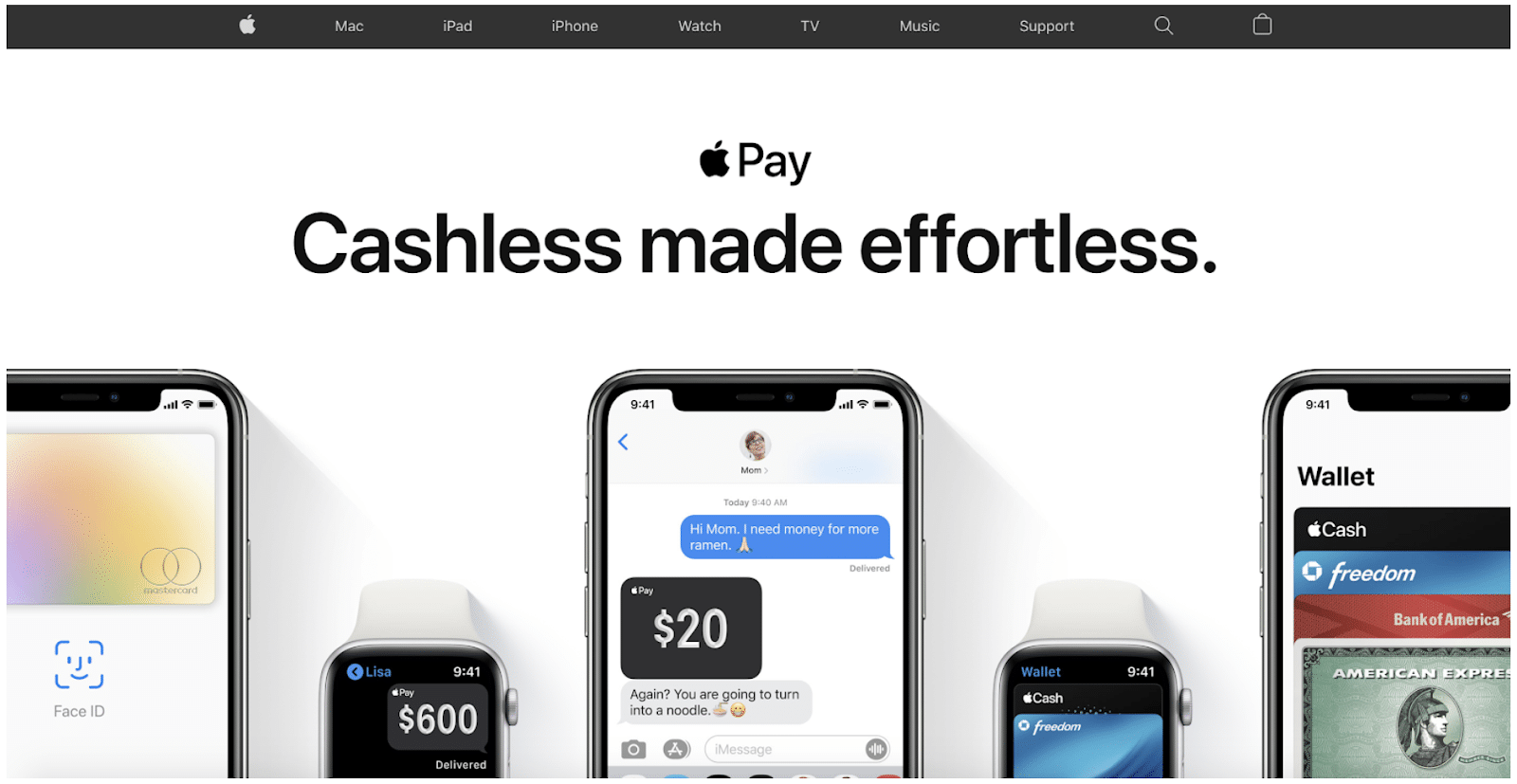 Apple Pay allows businesses to collect cashless payments from customers who have an Apple device. In addition to purchasing items with Apple Pay, users can send and receive money, making this a nearly ubiquitous way to execute your transactions.
Apple Pay is intuitive for users. They can pay online with one click or pay with their iPhone or Apple Watch in your store. It supports Touch ID on a Mac, making your shopping easier and more efficient.
Businesses can transact exclusively through Apple Pay, or they can use it in conjunction with other payment types. Additionally, merchants can enable their rewards program for them to use and replenish directly through Apple Pay.
Apple Pay is compatible with most card issuers and payment providers. No fee is charged to companies.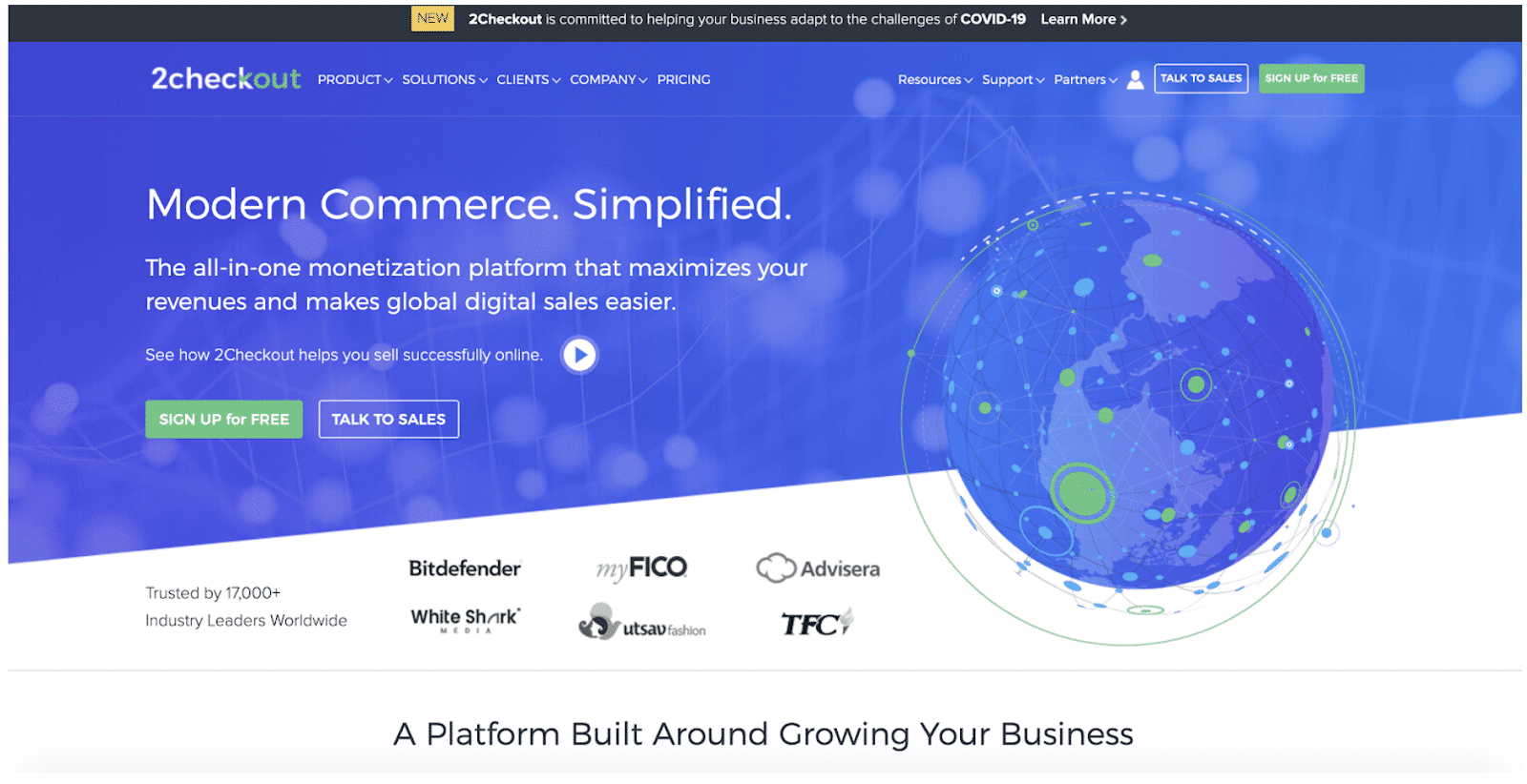 2Checkout is a "monetization platform" that makes it easy to send and accept payments from customers, vendors, and sellers around the world.
2Checkout offers subscription billing, shopping cart templates , custom checkout fields, and integrations with major eCommerce platforms like Shopify and BigCommerce.
The processor also offers financial and tax support, including the ability to handle US sales tax. It can even calculate and pay taxes for you.
Thanks to its international processing capabilities, 2Checkout provides guidance to ensure you adhere to the financial laws and regulations of various countries.
2Checkout charges 3.5% + $0.35 per transaction.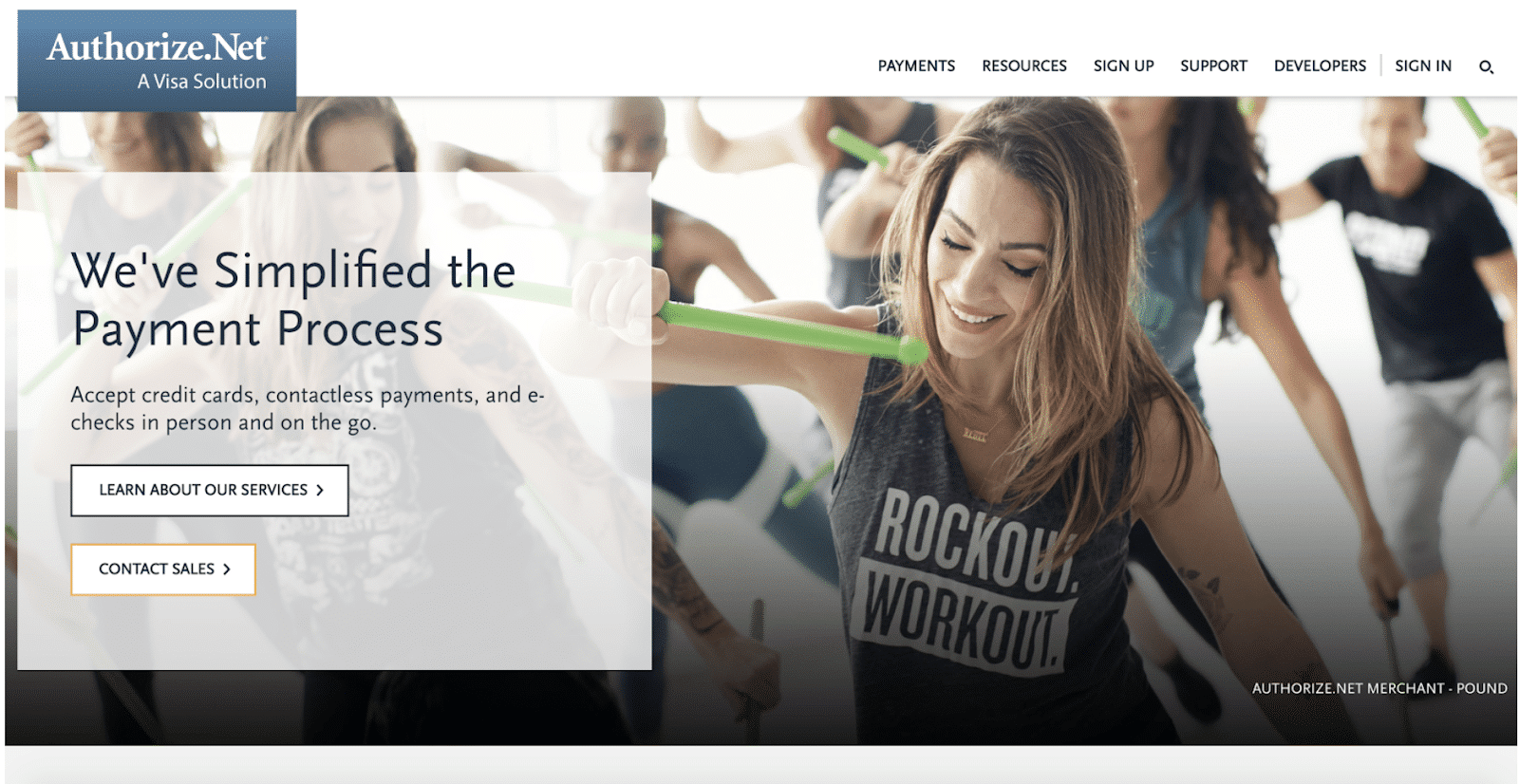 Authorize.Net processes online, mobile, and in-store payments to ensure every customer can shop frictionlessly. Visa acquired Authorize.Net in 2010.
Authorize.Net focuses on ease of transaction for the consumer. Offer a simple and customizable "Buy Now" button for one-time payments.
Authorize.Net accepts a variety of payment options, including debit cards, credit cards, and digital payments .
Provides fraud filters, allowing businesses to set certain rules (eg, limit number of transactions, differences between shipping vs. billing address, etc.) that will flag an order for review.
Additionally, it offers customizable billing templates with automatic reminders that can be triggered after a certain time or a specific event.
Authorize.Net charges $25/month + 2.9% + $0.30 per transaction.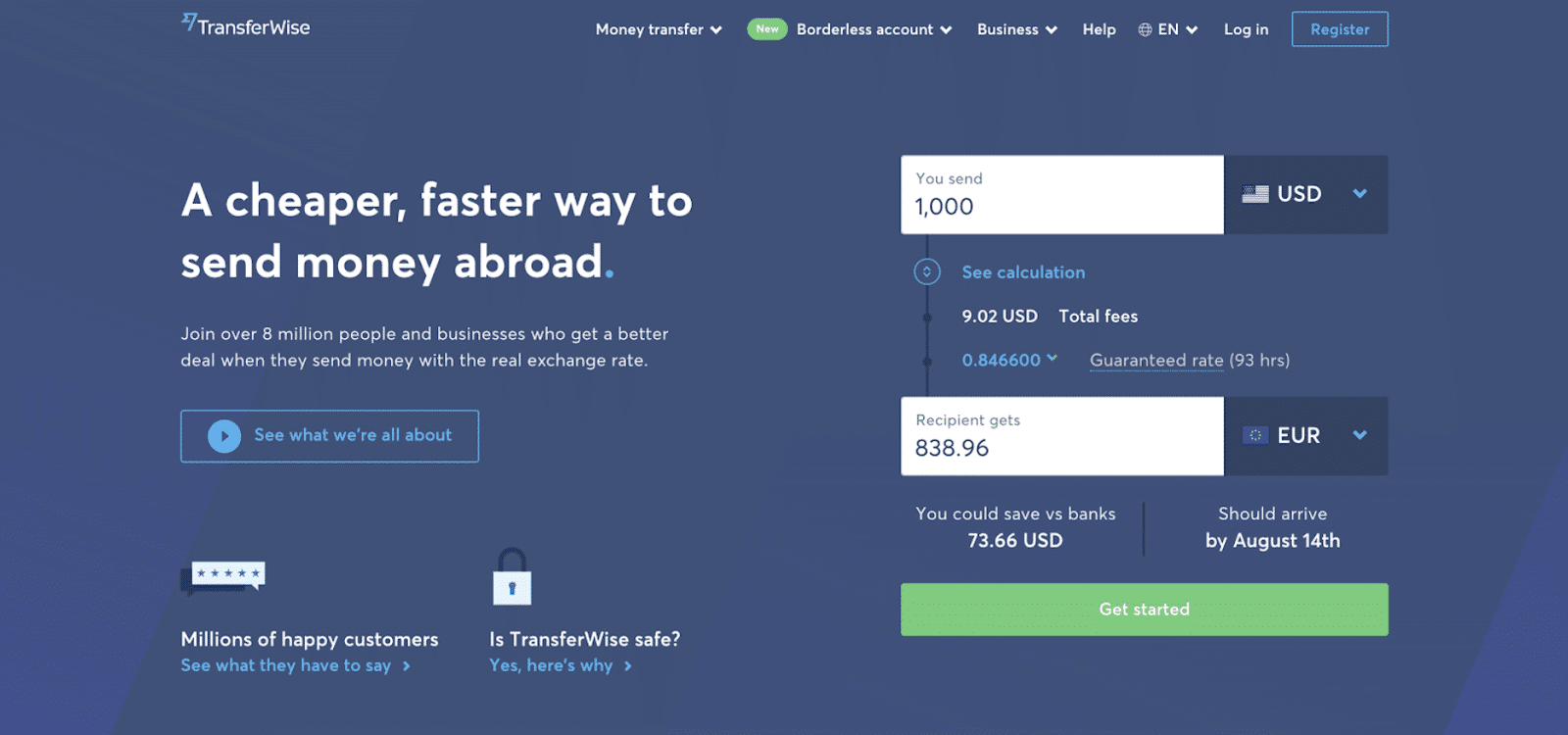 TransferWise is a payment service that prides itself on offering the real exchange rate for currencies from all countries.
TransferWise's main competitive advantage is its ability to calculate a real, current exchange rate. In most cases, this has been up to 19 times cheaper than the one offered by PayPal.
TransferWise also offers a handful of features, including the ability for merchants to automatically pay/send invoices and receive money free of charge.
The processor integrates with Xero accounting software for easy bookkeeping, as well as a handful of other programs.
TransferWise for Business charges a $31 setup fee + $1.40 transaction fee + foreign exchange fee.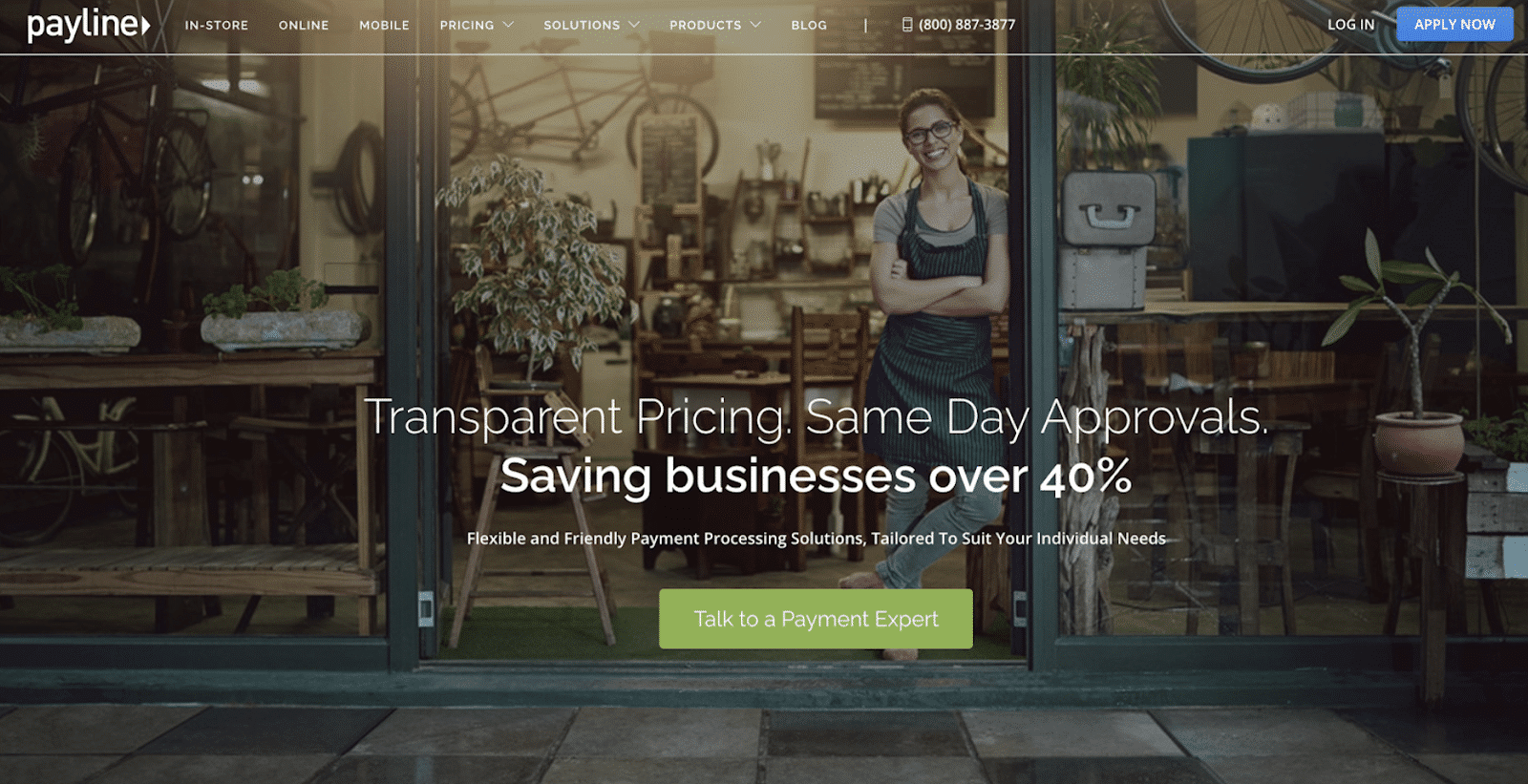 Payline offers flexible payment solutions for payments in person, online and by mobile phone.
Some of Payline's most popular features include its personalized billing, recurring billing features , ACH payments, and personalized payment pages.
It integrates with a handful of point-of-sale (POS) systems, shopping carts, QuickBooks, and card readers. Payline doesn't charge any cancellation fees, and their transaction fees are lower than PayPal's.
Payline charges $10 per month for their virtual terminal + 2.25% transaction fee.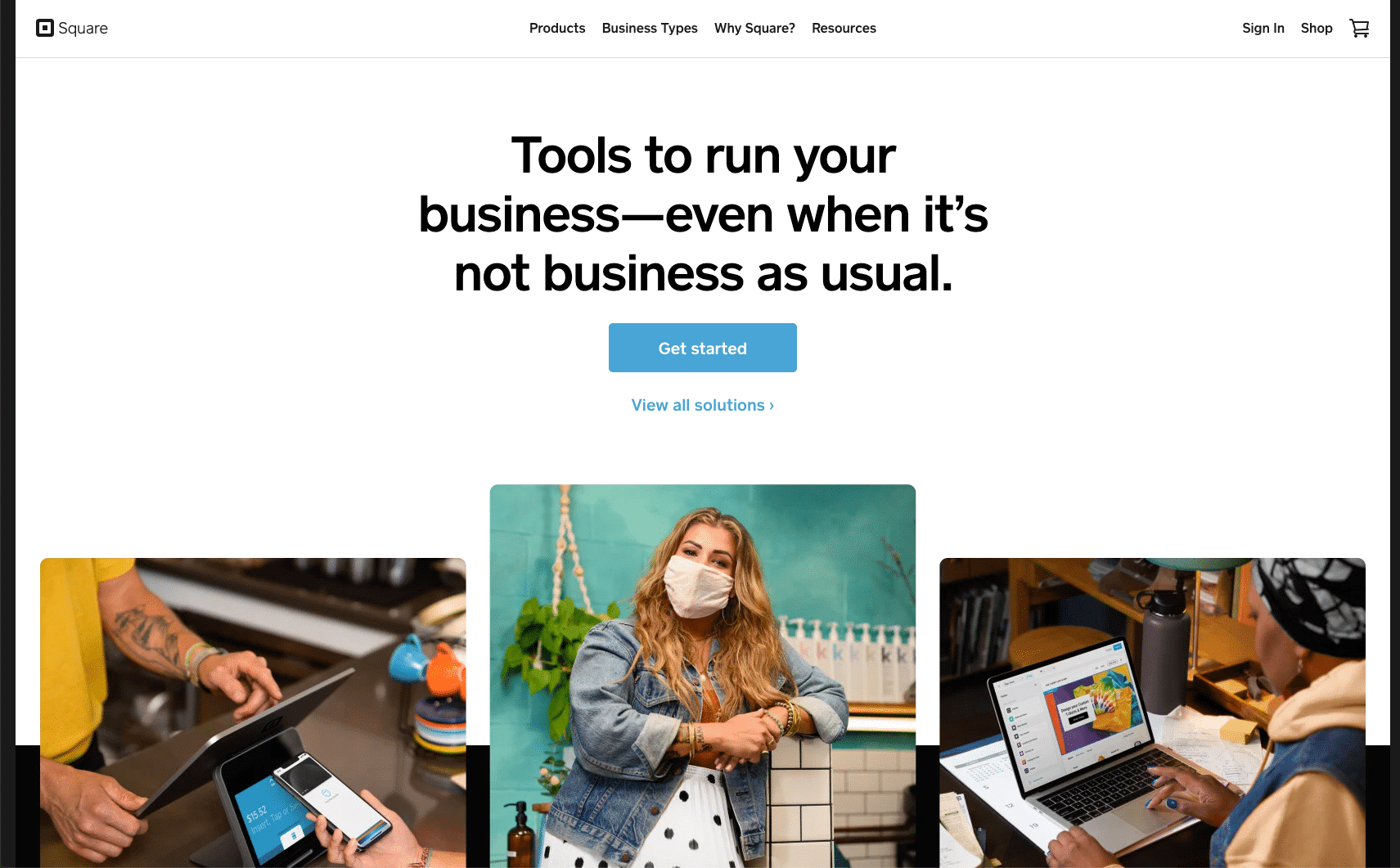 Square is a payment processor that allows businesses to accept payments in multiple ways through its secure gateways.
Consumers check out by making an online transaction, swiping or tapping a Square reader, or using a keyed payment device.
Square charges 2.65% per card transaction and 2.9% + $0.30 per online transaction. Be sure to check out our Stripe vs Square comparison .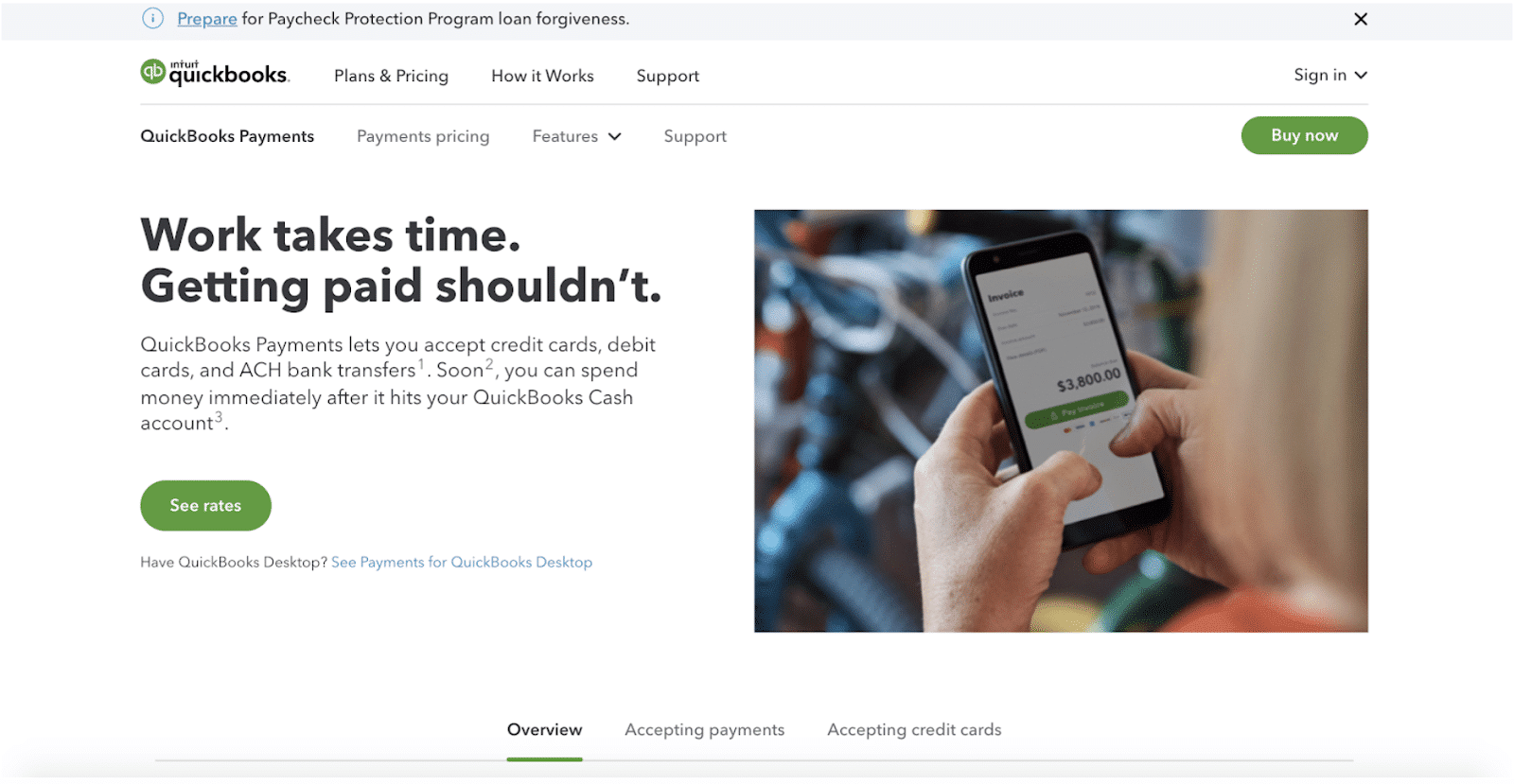 QuickBooks Payments makes it easy for you and your vendors or customers to make transactions to make sure you get paid what you deserve. If you're already using QuickBooks for your bookkeeping and most of your billing, this is a good option for you.
QuickBooks Payments accepts credit cards, debit cards, and ACH wire transfers.
Payments can be processed online, via mobile and using card readers. Once the money reaches your bank account, you can spend it or withdraw it from an ATM almost immediately.
QuickBooks Payments charges 2.4% + $0.25 per transaction.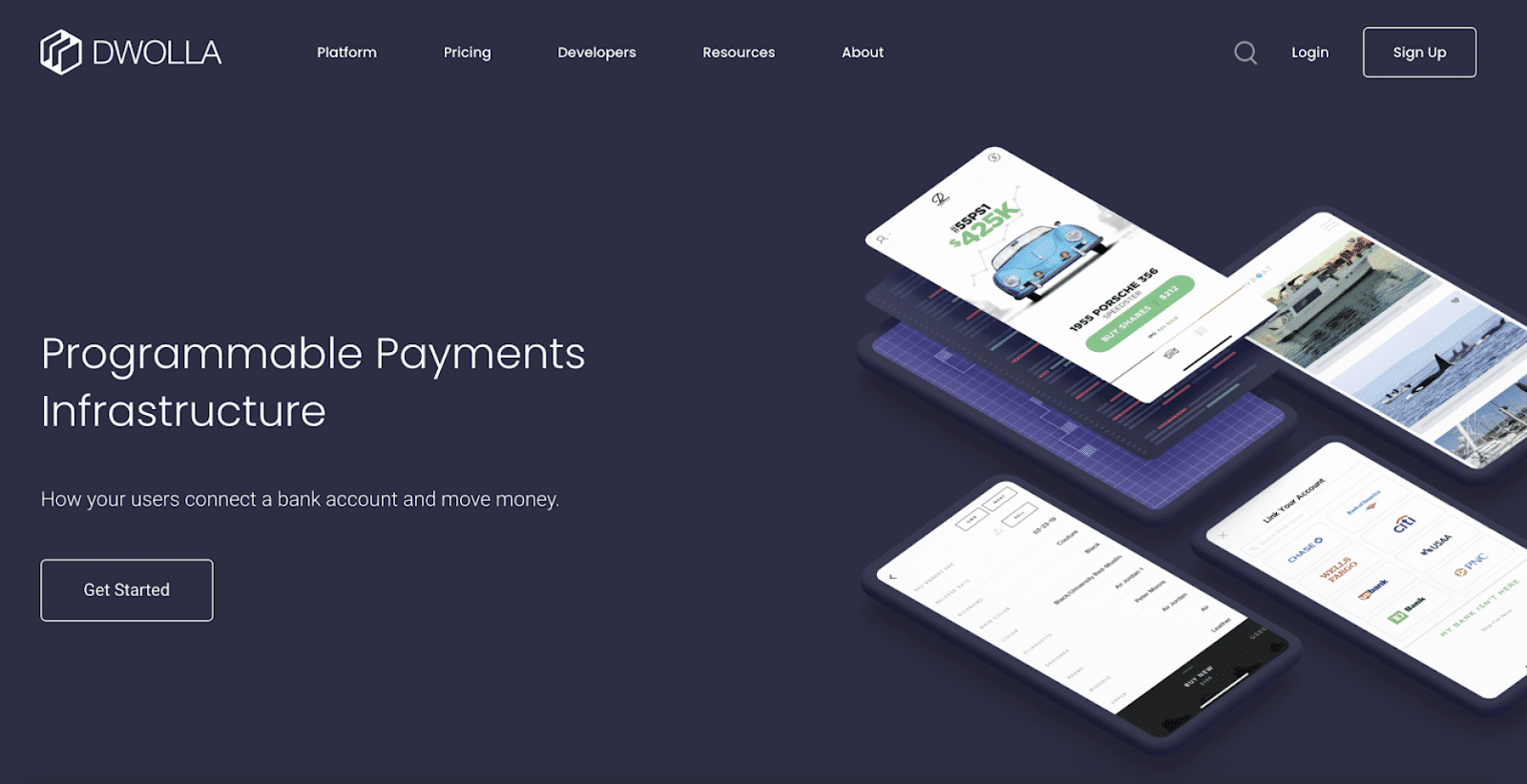 Dwolla is a fully customizable payment processor that can be easily integrated into your existing store and business.
Customers who sign up for Dwolla control the amount of information they provide, which classifies them into different customer types to ensure security.
Dwolla charges 5% per transaction (min 5¢, max $5) or $2,000/month fixed monthly price.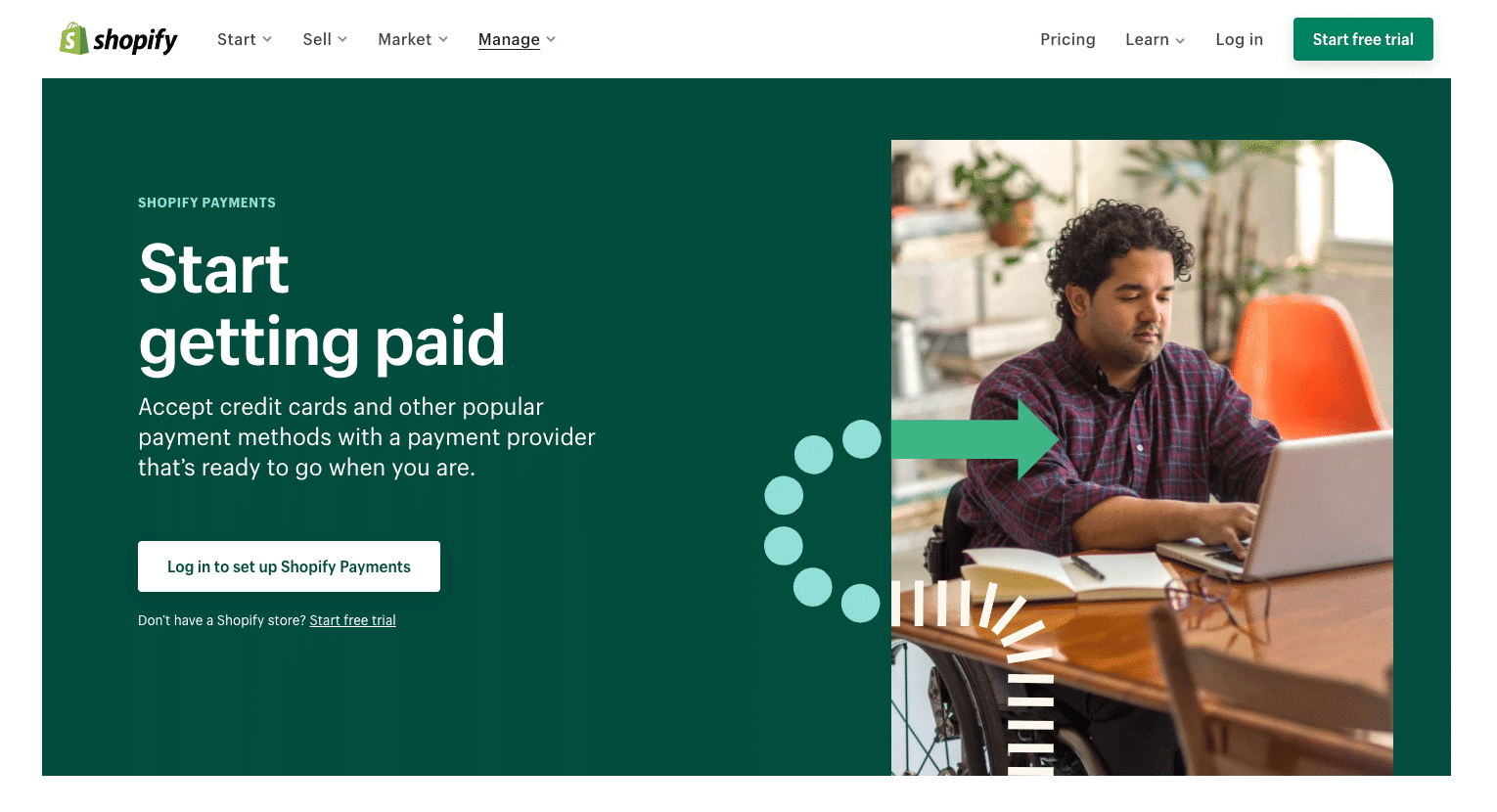 Shopify Payments is the payment processing gateway for one of the world's leading e-commerce platforms.
The company's positioning says it all: "Go from setup to sale with a single click."
Shopify Payments works with all commonly used payment methods and local currencies. The platform is trusted by hundreds of thousands of businesses and offers secure 3D payments.
If you're already using Shopify as your eCommerce platform , you can track orders and process payments under one roof.
Problems with downtime and problems with WordPress? ArunSEO is the hosting solution designed with performance and security in mind! Check our plans
Shopify Payments charges are $29/month + 2.9% + $0.30 per transaction.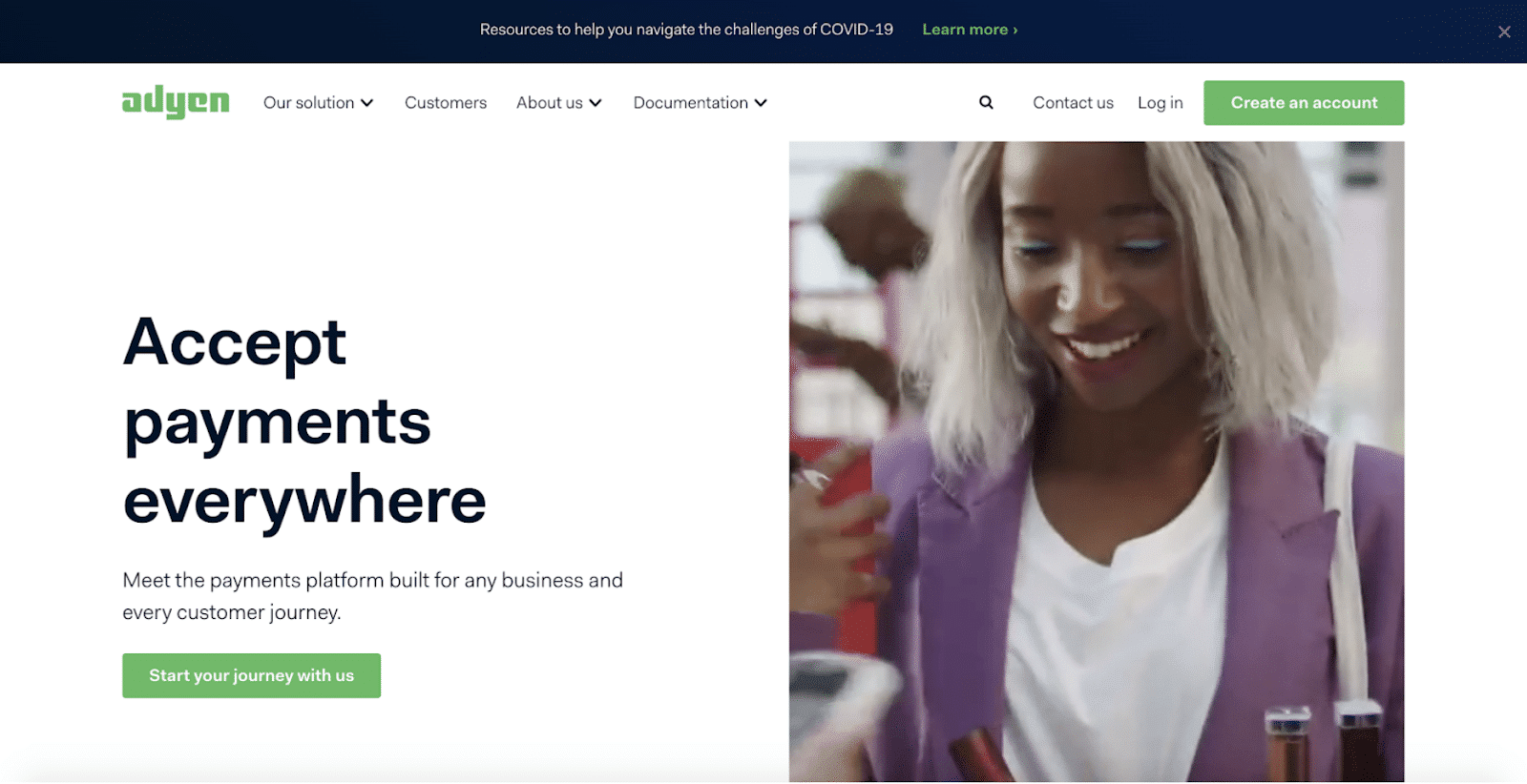 Adyen is a payment platform that values ​​growth, revenue, and real partnership with its merchants. Adyen offers language and currency recognition to customers around the world, making it easy for them to shop at your store.
Additionally, Adyen offers a unique customer experience that is able to recognize repeat customers at checkout.
Using purchase data, Adyen creates shopper profiles to discover valuable insights about your customers.
Adyen charges 3.95% + $0.12 per transaction.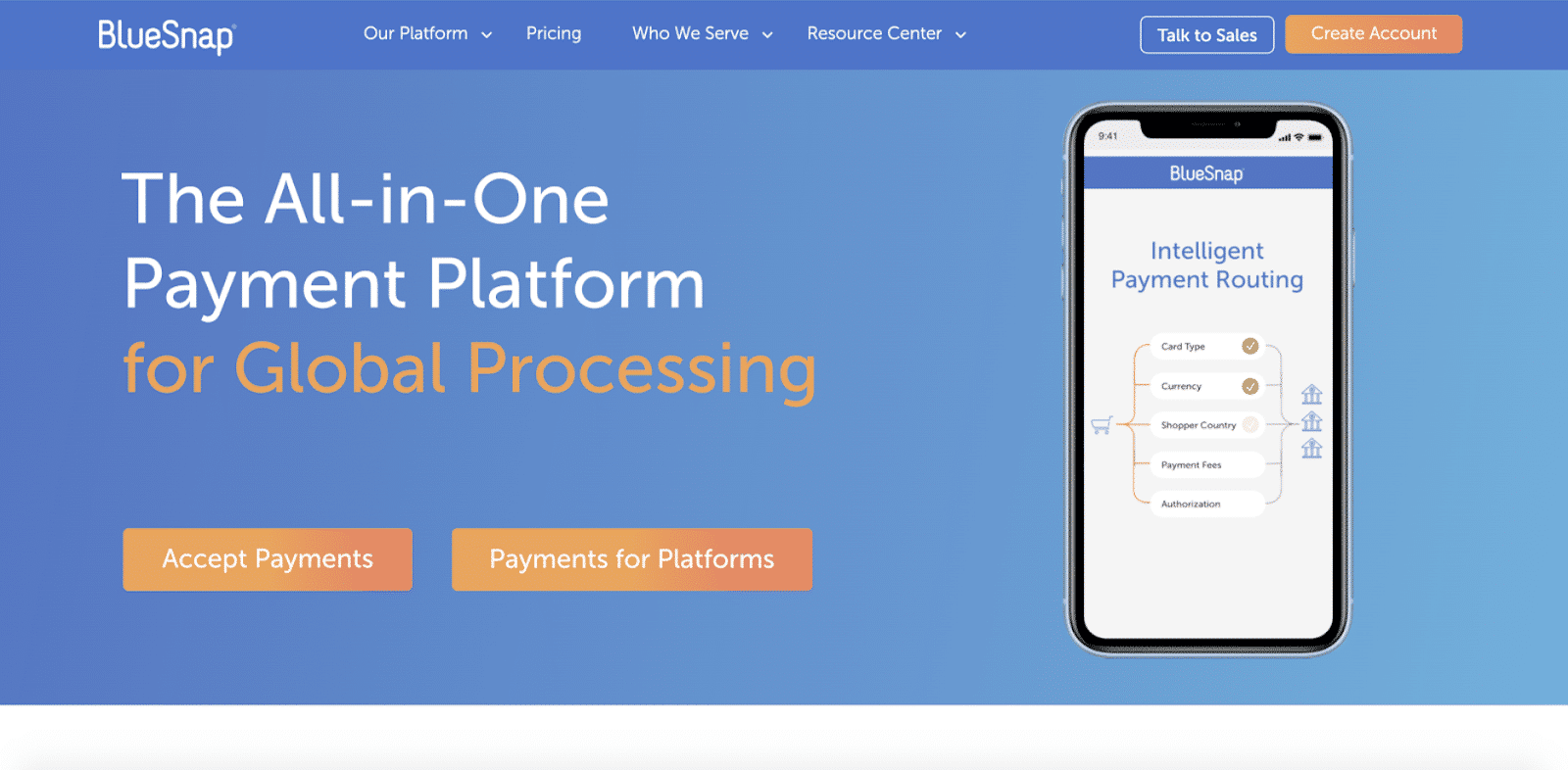 BlueSnap provides global processing for leading companies like Monday.com ie BlueJeans, OutBrain, Wheels Up and more.
BlueSnap uses "intelligent payment routing" to improve the success of your transactions . This is achieved through its association with more than 30 global banks, which handle local transactions.
BlueSnap accepts over 100 buyer currencies and transacts in over 17 currencies. In addition, the company is classified in the highest security class.
The processor integrates with QuickBooks, Xero, and Salesforce, so you can automate accounts receivable and other business transactions.
BlueSnap charges 2.9% + $0.30 per transaction.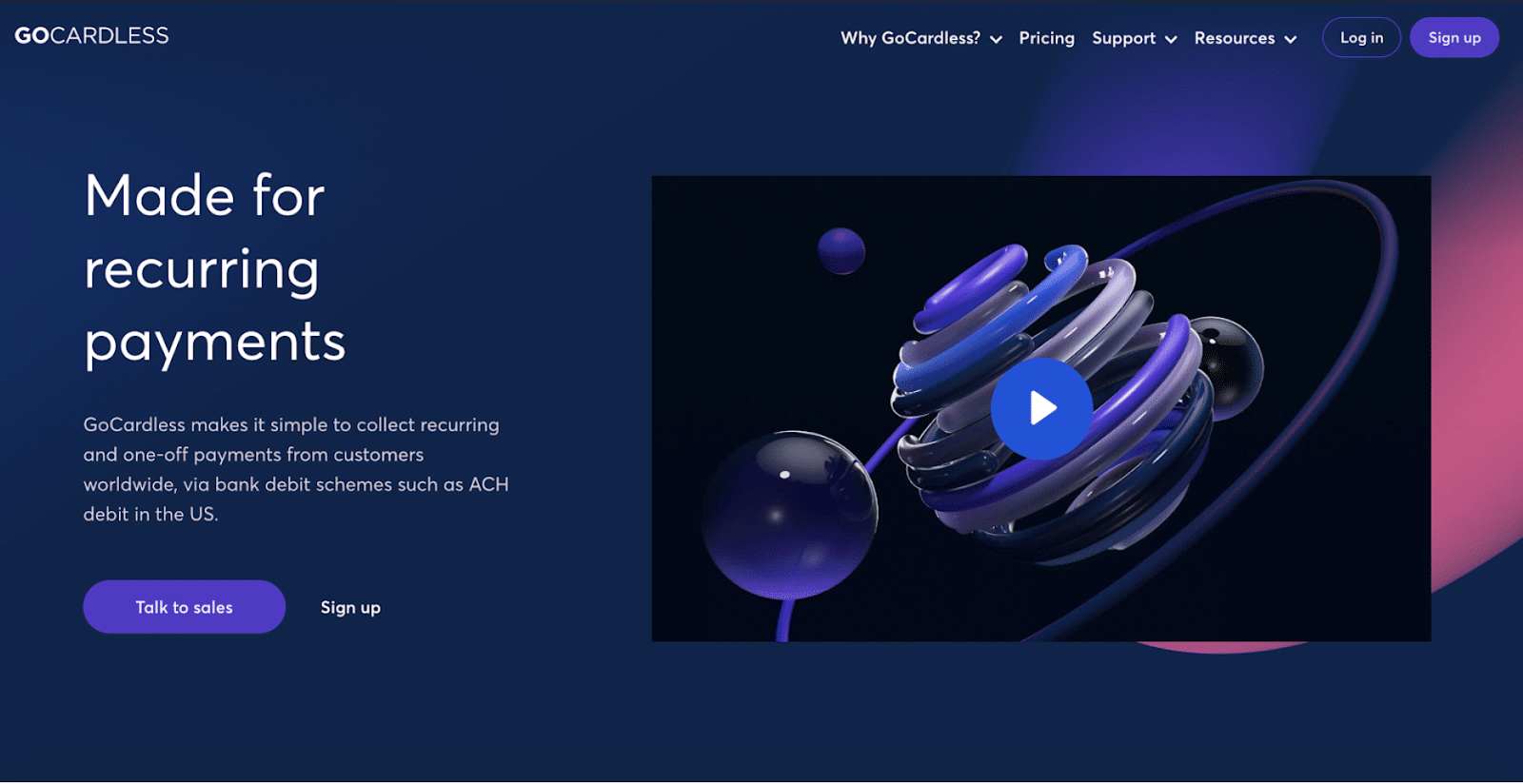 GoCardless imagines life without the need for a tangible credit card with its payment processor made for recurring and one-time payments. GoCardless is ideal for recurring transactions that are loaded directly into your accounts.
The processor supports subscription and invoice payment as its sweet spot with integrations for Zuora and Xero.
With GoCardless's own integration, you can collect payments in over 30 countries.
They are also reliable. Its Success+ payment retry feature calculates the day and time to execute the transaction when it is most likely to be successful. This has reduced the payment failure rate by 15% on average.
GoCardless charges 1-2% + $0.25 per transaction.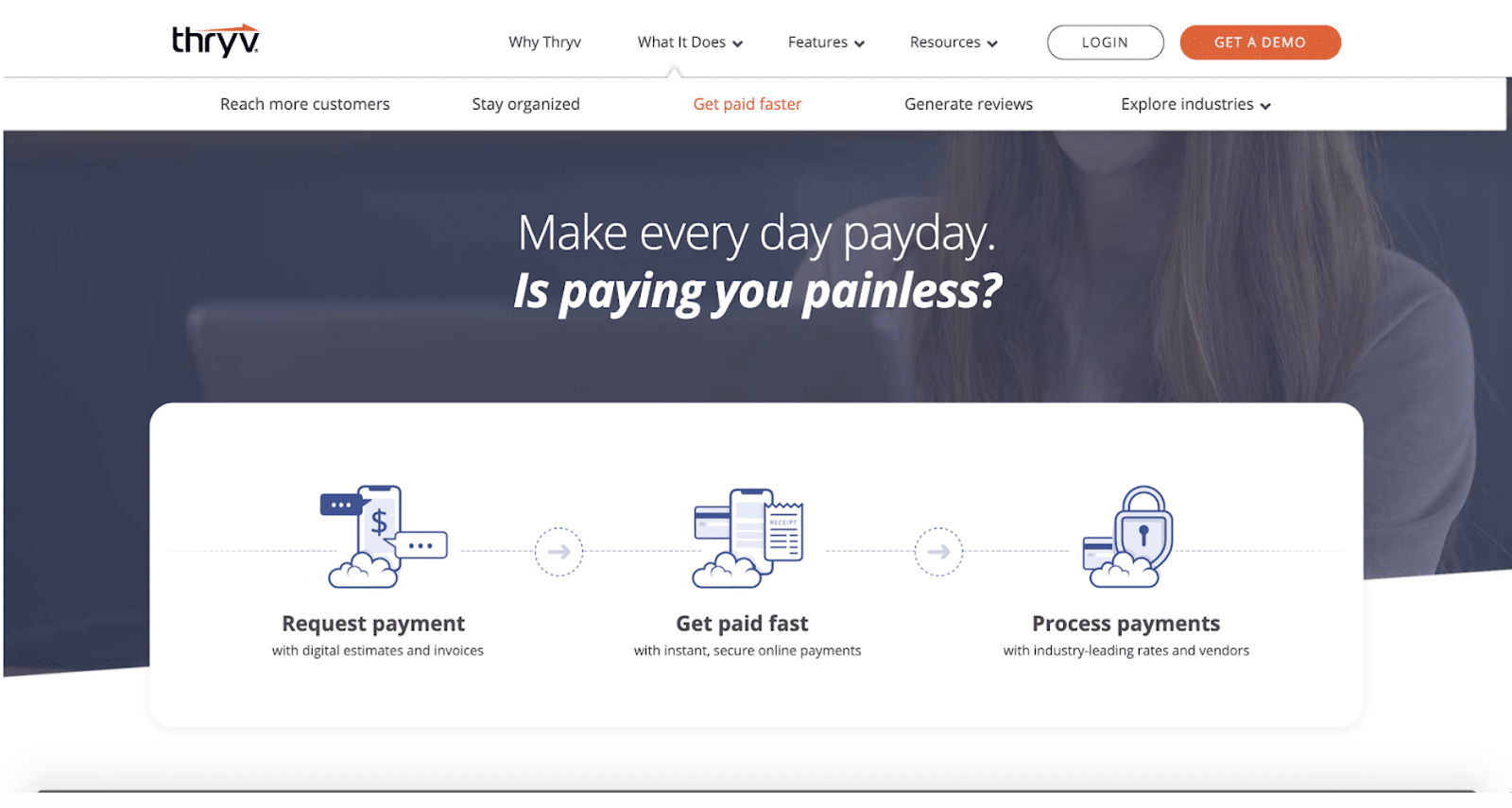 Thryv helps small businesses get paid faster with a seamless transaction experience and fast payment processing. More than 350,000 small businesses use it.
With Thryv, you can send estimates, invoices, and interactive reminders. You can even scan credit cards on your smartphone.
Thryv offers secure payment processing. One drawback is that it doesn't have many integrations. Instead, Thryv relies on Zapier to connect to other software. It has a handful of other products that can work alongside your payment processor, including a customer review and marketing platform .
Thryv charges 2.6% + $0.30 per transaction.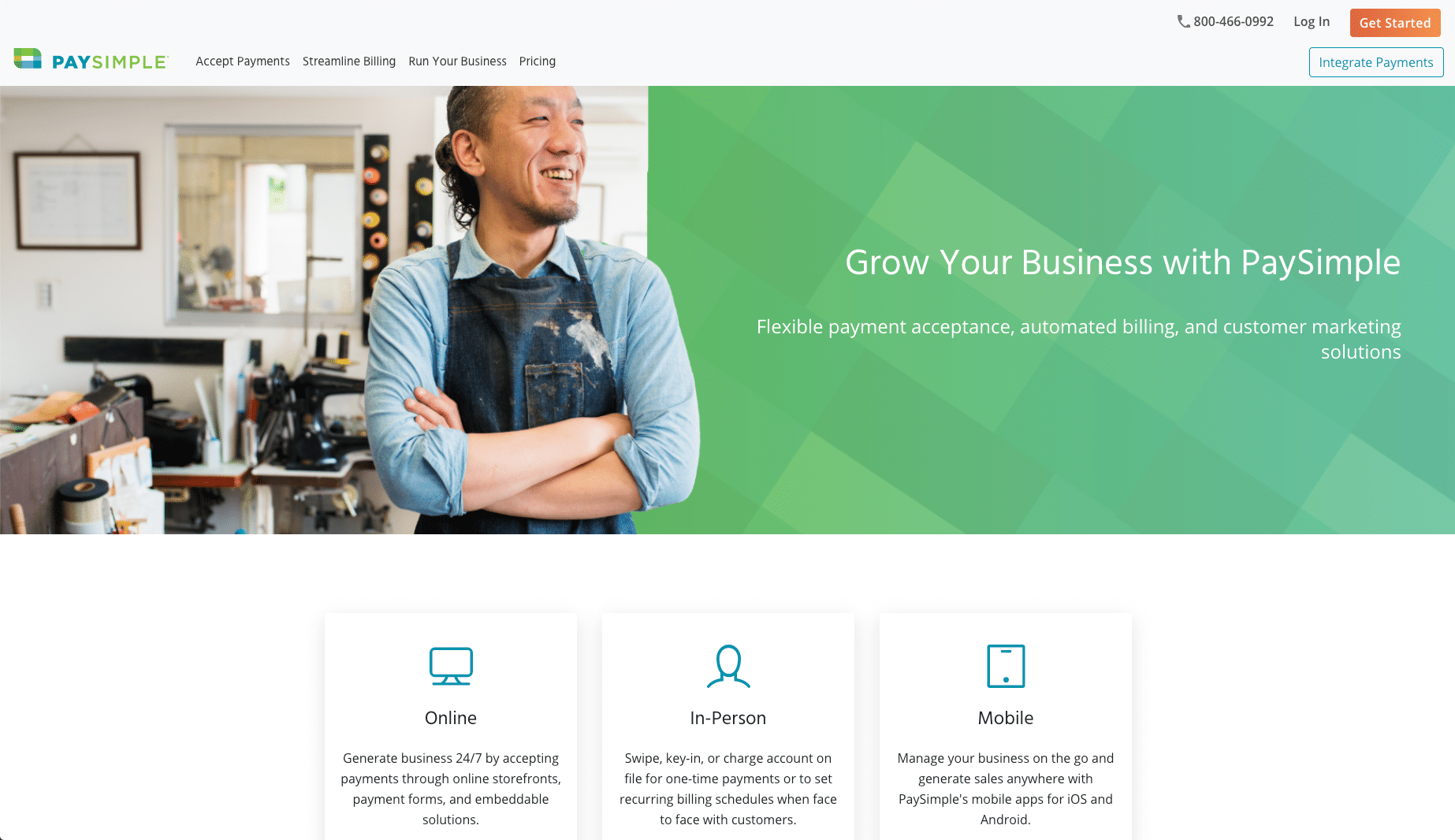 PaySimple doesn't have all the features of other payment processors, but it still gets the job done with a relatively low transaction fee.
With PaySimple, you can collect registrations with online payment forms , set up recurring billing, and send invoices.
PaySimple has cash flow management reports to keep track of payments received. For the ones you haven't received yet, you can set up push notifications that will go off on their own, so you don't have to chase after bills.
PaySimple charges 2.49% per transaction + a monthly fee.
20. Opayo (formerly SagePay)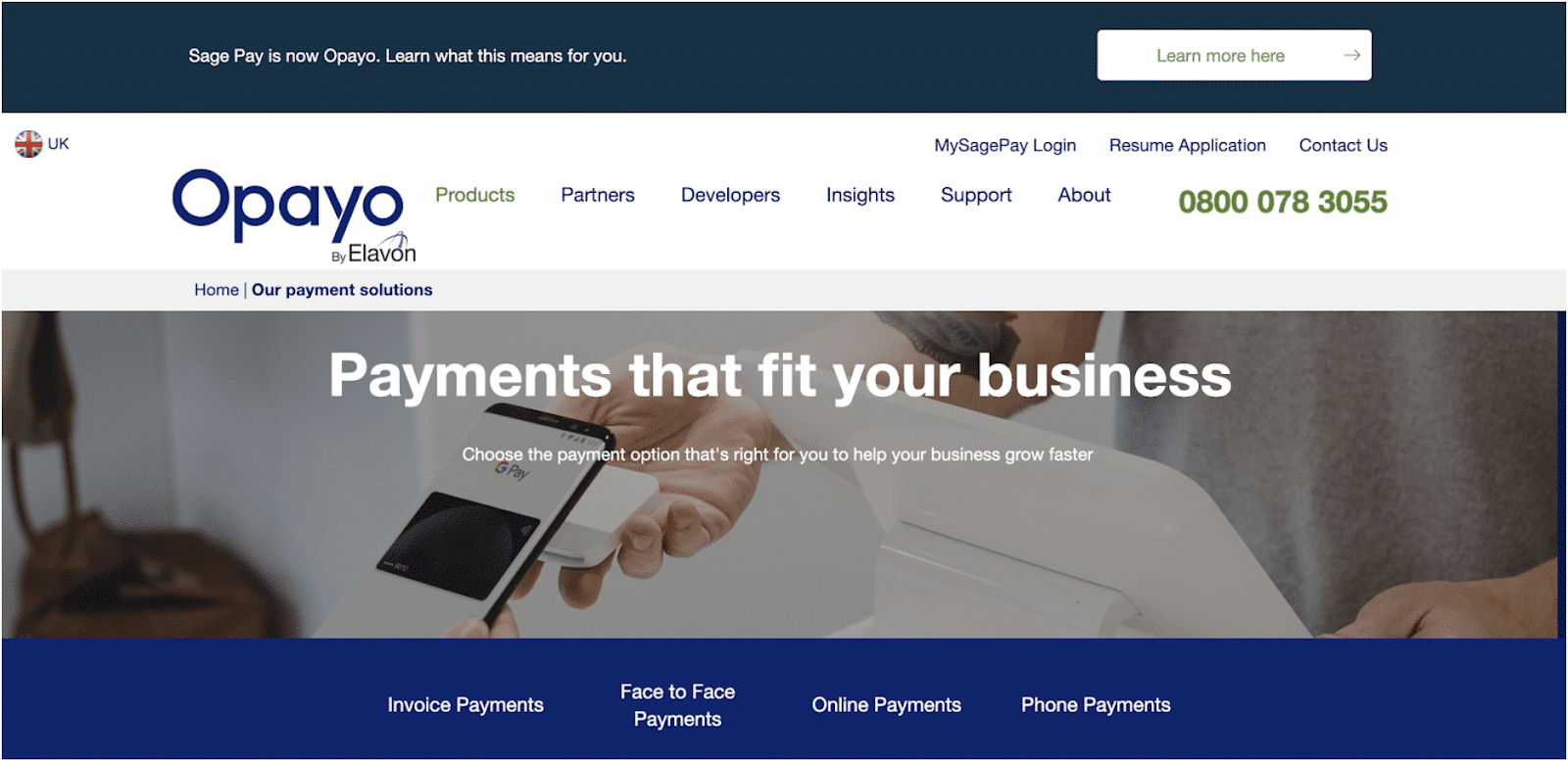 Opayo , formerly known as Sage Pay, is an online payment processor run by its parent company, Elavon.

The processor integrates with Elavon Financial Services' DAC accounting software and has fraud detection tools to ensure transaction security .
Opayo makes it easy for your customers to purchase with a single click at checkout for online invoices and payments.
Opayo charges a monthly fee of $35 per month.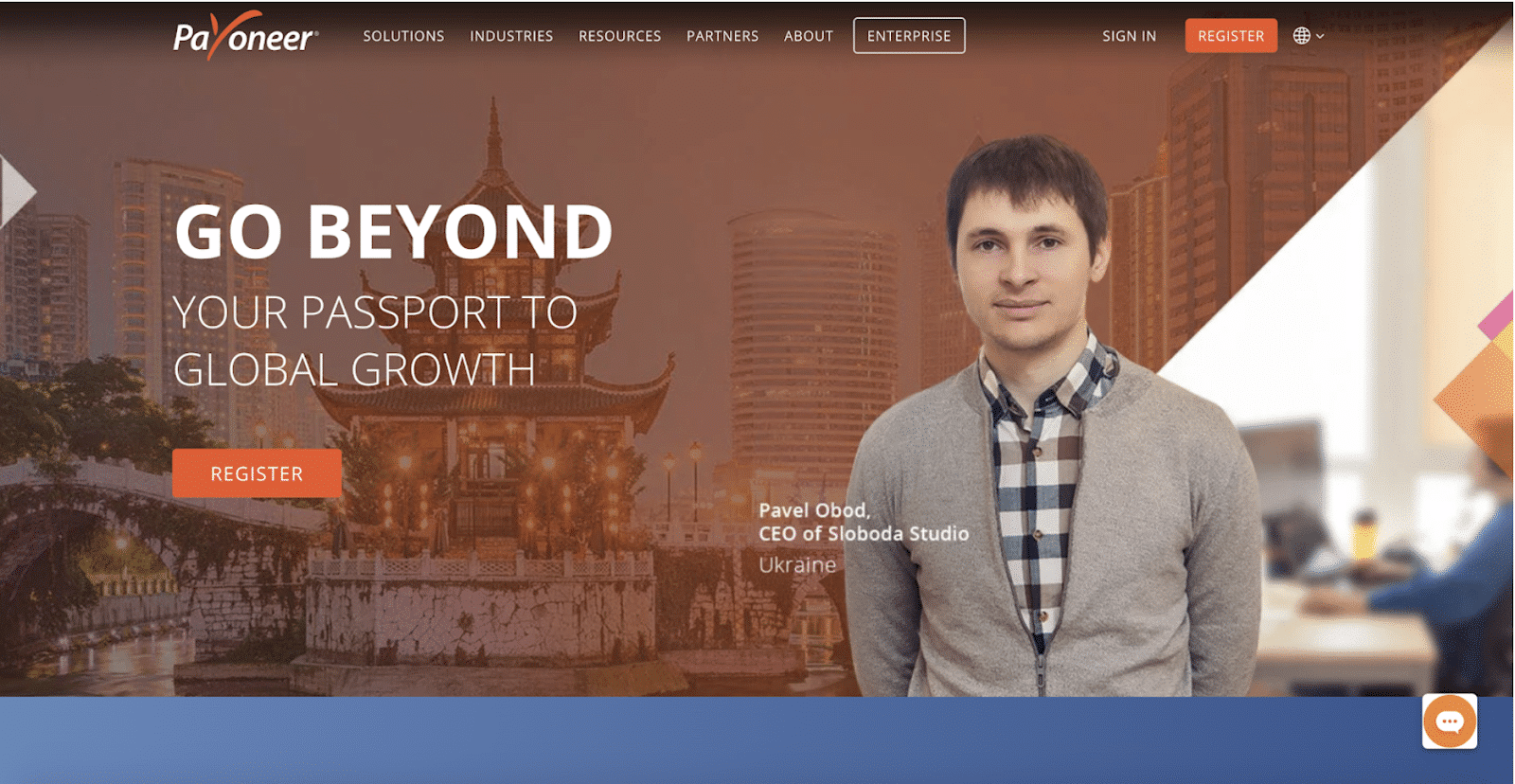 Payoneer focuses on the ease of sending and receiving global payments. Its motto is "Your passport to global growth".
Payoneer lets you pay vendors for free with instant in-network payments. With one click and two hours, your money will be transferred.
Payoneer accepts multiple currencies to offer international payment options. Additionally, it has an Amazon Store Manager feature that collects all Amazon transaction data across various storefronts, making it easy to view your revenue .
Payer charges up to 3% for credit cards or 1% for ACH bank debit in dollars.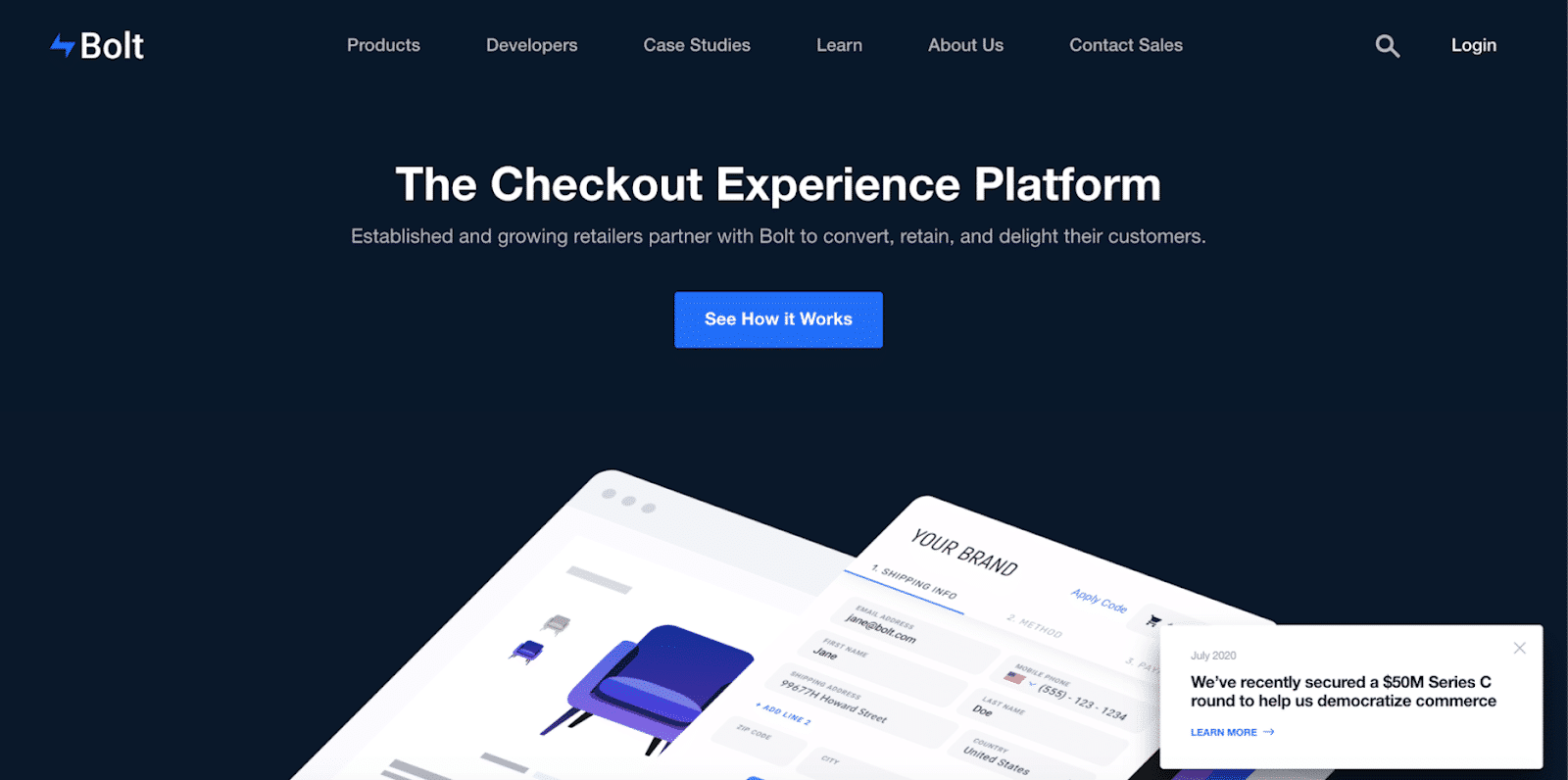 Bolt works seamlessly with your business with the help of countless integrations with all major platforms and credit cards. Strengthen your security with micro-authorization and human review fraud protection.
Plus, you get 100% coverage on fraud chargebacks , making the transaction even more secure for your business.
Bolt goes ahead and accepts a variety of payments, from digital wallets to installment payments.
Bolt charges a monthly fee that starts at $16 per month.
Choosing the Right PayPal Alternative
As you can see, there are many PayPal alternatives to choose from. While each platform has pros and cons, here are a few that stand out.
The best PayPal alternative for international payments
Take another look at Stripe, 2Checkout, and BlueSnap if you're anticipating international transactions.
The best PayPal security alternative
Most platforms passed the basic security test. FastSpring, Shopify Payments, and Bolt stood out from our research for the security measures they have in place.
Best PayPal Alternative for Low Fees
Payline advertised a fee structure of 2.25%, which is lower than the 2.9% average. Depending on the volume of orders, which could change drastically during the holiday season , you could also take a look at a payment platform like FastSpring that offers fixed prices.
Summary
Is PayPal the most famous payment gateway out there? We would say yes. Is the best? Probably not, since there are so many use cases and needs in the business world that a single tool could hardly serve them all. Fortunately, there are solid PayPal alternatives to look at.
If you're not happy with it, now is the time to start considering switching from PayPal to a different payment app that might work better for your online business . By doing so, you'll likely have better rates, more features, and more secure transactions with your customers.
Once you've made the transition, be sure to come back here and share your experience in the comments section!
Save time, costs and maximize site performance with:
Instant help from WordPress hosting experts, 24/7.

Integration of Cloudflare Enterprise.

Global audience reach with 34 data centers around the world.

Optimize with our built-in application performance monitoring tool.
All this and much more, in a plan with no long-term contracts, assisted migrations, and a 30-day money-back guarantee. Learn about our plans or talk to the sales department to find the most suitable plan for you.